College/Non-profit Radio: Opportunities
It is still crucial to consider radio play as an essential part of your music career. Streaming networks are a piece of the puzzle but to truly strike a chord with a broader audience, expanding your reach beyond the digital sphere is paramount.
College and non-profit radio stations typically curate their playlists free from the constraints of major industry players. Local artists can seize these unique opportunities to attract new fans, promote live shows, and present your music for airplay consideration. 
65% of listening takes place out of the home.
At the very bottom of this page is a list of three local stations and the steps to guide you towards making a memorable impression in the radio realm.
AM/FM radio is still the #1 mass reach for audio.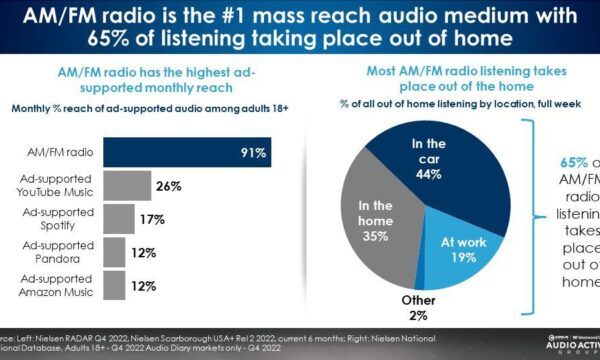 Six steps to getting radio play!
Stations in the KC area that play local music.
KJHK 90.7 – Lawrence
ELECTRONIC SUBMISSIONS (VIA EMAIL, DIGITAL PRESS KIT, ETC):
PLEASE EMAIL YOUR INFORMATION AND LINKS TO YOUR MUSIC (NOT THE ACTUAL FILES, PLEASE) TO [email protected]
LOCAL MUSIC SUBMISSIONS
PLEASE FILL OUT THE FORM USING THIS LINK
Below is what you'll need to fill out this form.
Your artist or band's name.
A little narrative about your band!
Upload up to 5 mp3s
DONE!!
KKFI 90.1 FM – Kansas City
Digital files can be presented to [email protected], where they will be forwarded on to our show hosts for consideration.
These submissions should have a stream link, so we can determine how to route the music.
Stream links that require downloading an outside player, may or may not get reviewed.
It is best to submit digital files in download form, ie, Dropbox, Google Play, etc.
These files will be forwarded to appropriate show hosts for consideration.
MP3 attachments should be limited to less than 8 MB's Total! Those files larger than 8 MB are difficult to send to the proper people and may not get the opportunity to be considered.
Done!!
One Kansas City Radio
Almost to the bottom of the page you'll find the link to submit your music.
You'll be prompted to download a form.  Download the form and submit your music.
Done!!
If you have not yet, it's time to publish your music.  For guidance check out my post on publishing your music.
---